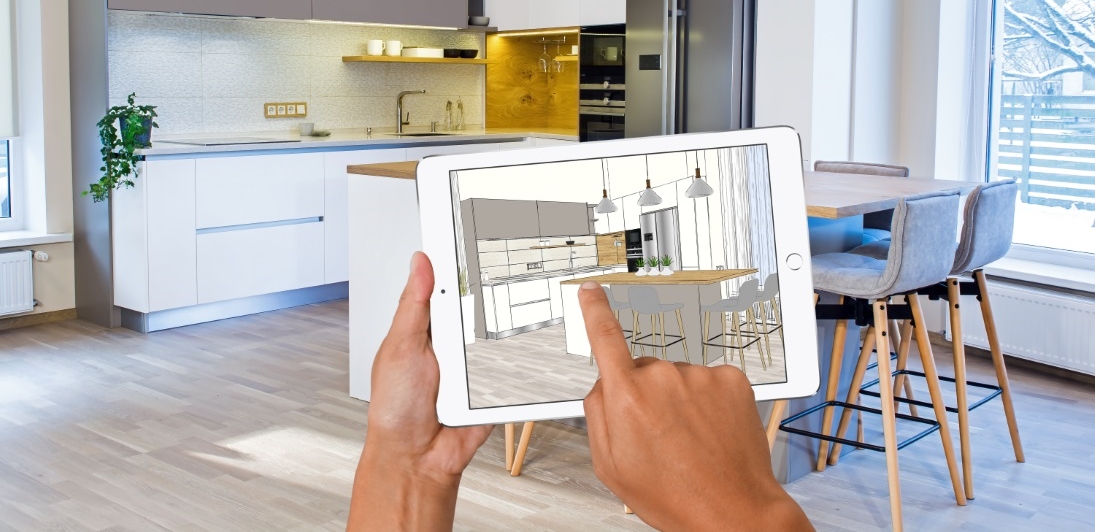 Interior design applications - for smartphone and computer..
Planning the finishing touches to an apartment requires perfect spatial imagination and the ability to run the deepest layers of imagination. Not everyone can boast of such talents, so it is worth to use applications designed for interior design.
---
Whether you use a smartphone or a computer, everyone will find something for themselves. Programs are extremely intuitive, so everyone without exception can take advantage of their benefits. Thanks to them you can create more or less professional interior visualizations. What is important is that these programs are free of charge, so you will not spend extra money on buying the right licenses.
Planner 5D
Planner 5D application enables designing beautiful and, what is more important, extremely realistic interiors of both houses and apartments in two modes: 2D and 3D. The application works in online as well as offline mode, which is an excellent option in the absence of Internet access. In a few minutes, using four available templates you will create your dream home. The application gives you the opportunity to virtually walk around the designed interior. The application is available for mobile devices with built-in Android and iOS.
Advantages of Planner 5D:
virtual walk (available only in full option),
high availability of options,
availability of Material Design,
speed of action,
ease of use.
Planner 5D's disadvantages:
Limited free access,
Large application size (230 MB),
additional equipment required in the form of VR glasses.
Power net+
Power net+ program belongs to Polish brand CAD Projekt K&A. The application is completely free and relatively universal. The interior design process is simple and intuitive, so it does not create additional problems for the user. Dynamic preview in 3D version gives a sense of perspective and allows to imagine the final effect even closer.
Power net+ advantages:
simple interface,
completely free of charge,
3D visualisation.
Power net+ disadvantages:
Lack of possibility to introduce own projects.
Google SketchUp
Google SketchUp application is dedicated as an aid in the process of modeling buildings and simple, uncomplicated solids. It requires a bit more work, but with the appropriate effort you will also create other models such as furniture or other interior design. The program has numerous templates that make it easy to design interiors, architectural designs, and even gardens or scenery. Operating the program is relatively easy and intuitive. Designed elements can easily be further processed in other programs. The program is available both on OS X and Windows.
Advantages of Google SketchUp:
Polish language version,
large access to ready-made templates and models.
Disadvantages of Google SketchUp:
large restrictions in the free version,
unrealistic mapping of rooms.
Homestyler Interior Design
Homestyler Interior Design is another application that gives the possibility of interior design. Intuitive operation, as well as numerous functions perfectly facilitate the creation process. Dedicated to both beginners and advanced users. Allows you to create 3D models. Recently, the application has been enriched with the possibility of preparing interactive 360 degree projects.
Advantages of Homestyler Interior Design:
accessibility,
intuitiveness,
360 degree models.
Disadvantages Homestyler Interior Design:
small number of textures offered.
IKEA Home Planner
The IKEA Home Planner application is designed for the kitchen, bedroom and office. Download it from the manufacturer's website and install it on your computer. A rich library of objects allows to create an attractive visualization. An undoubted advantage is the fact that after the project, you will receive a valuation of individual furniture. The program allows you to design in 2D and 3D mode.
Advantages of IKEA Home Planner:
intuitive to use,
a rich library of objects,
furniture valuation.
IKEA Home Planner's disadvantages:
no possibility to use another furniture base,
for IKEA lovers only.
Room Creator Interior Design
Room Creator Interior Design will show you how specific furniture will look in your future home. Free application available for iOS and Android devices. In a few minutes you will create an interior visualization and make it look even more attractive.
Advantages of Room Creator Interior Design:
simple operation,
the actual representation of the furniture.
Disadvantages of Room Creator Interior Design:
difficulty in moving between rooms,
a lot of advertising.
ROOMSTYLER
Roomstyler is a typical web application, i.e. it does not require installation on the system. The application is available in virtually all popular web browsers. Operation is extremely simple, each user without major problems will create their own visualization. Starting work with the program you should choose the layout of rooms from already available ready-made templates or create your own project. The furnishing of individual rooms is done by selecting the appropriate object, and then the option 'drag and drop'. Rendering in 3D is done in real time. The application has its limitations, because it allows to arrange a single room.
Roomstyler advantages:
access from a web browser,
easy to use,
online access.
Roomstyler disadvantages:
No Polish language version,
Low quality 3D rendering.
Live Interior 3D
Live Interior 3D is available for devices running Windows 8.1 or later, as well as Mac OS X. This is an interesting option, especially for those who like working on touch screens. Thanks to this application you will be able to design 2-dimensional plans of your apartment and other buildings. With a single switchover, it becomes possible to visualize 3D, which uses lighting, texture, and even variable weather conditions outside the window. The intuitive interface makes it possible for practically everyone to use the program. A large database of objects with furniture, carpets, other textiles and, what is interesting, potted plants, gives room for imagination.
Advantages of Live Interior 3D:
operation on touchscreens,
real-time rendering,
access to a large database of objects in the library.
Disadvantages of Live Interior 3D:
No Polish language version of the program,
limitations on the free version.
Home Design 3D
Home Design 3D is a free program for the visualization of rooms. It allows you to design the whole house. Accuracy and innovative solutions made it possible to design the whole apartment at the same time. It reflects the reality in a very reliable way. Created projects can be viewed in 3D.
Advantages of Home Design 3D:
three-dimensional visualization,
Polish language version,
simple operation.
Disadvantages of Home Design 3D:
The program does not have many functions.
Autodesk Homestyler
Autodesk Homestyler is available as a web application. The program gives you the ability to visualize more than one room at a time. It allows you to arrange the entire house including its immediate surroundings. Autodesk Homestyler is fully intuitive, and will satisfy crowds of interior design enthusiasts. The huge base of objects gives a wide range of possibilities of personalization. The whole design works on a 'drag and drop' principle. At any time, thanks to rendering you will get a 3D effect. The application also enables a virtual walk around the rooms. Flash-enabled web browser and internet access are required.
Autodesk Homestyler advantages:
For beginners and intermediate learners alike,
online availability,
interior and garden design,
a wide range of facilities,
a virtual walk in real time.
Autodesk Homestyler disadvantages:
no Polish language version,
Poor quality rendering to 3D.
Roomtodo
An innovation on the application market. Roomtodo allows you to design your home in 3D for free. From designing the bathroom, through the kitchen and living room. A rich library offers thousands of finishing and arrangement elements for any room. The program allows you to add your own drawing brilliance and then refine it in the application.
Roomtodo advantages:
intuitive design,
a rich library of objects,
3D view.
Roomtodo's disadvantages:
No Polish language version,
no possibility to design your own furniture.
The multitude of programs and applications for interior design allows you to choose and match it to individual, personalized needs.