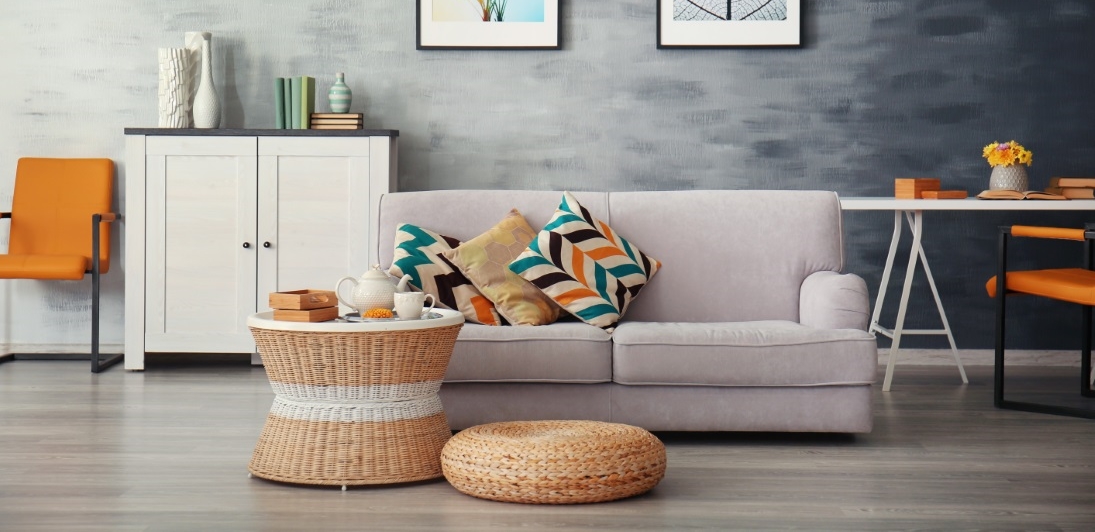 Trends 2020 in interior design. What should a modern interior look like?
The year 2020 is approaching with great steps. It will bring changes in interior design trends. There will be many novelties, and some motifs fashionable in the past will return to favor again. We have checked for you what will be fashionable in the coming season and how to arrange your interior to be just in time.
Interior trends for 2020
Maison & Objet Paris is behind us. This is one of those events. There are many indications that next season, the Scandinavian and industrial styles will stop being fashionable. The coming season will be inspired by strongly ecological solutions. The world pays more and more attention to ecology, so it is becoming more and more fashionable. These motifs will be based on shades of green, as well as on the combination of stone and wood. Everything will be emphasised by colourful accessories. There will also be clear inspirations from ancient Greece and Rome - especially in furniture. The designers will also appreciate the beauty of Africa. Especially when it comes to colours, which will be fashionable in 2020. We will also return to the 20th century, and more specifically to the 1970s. Oval shapes, luxurious finishes - all this awaits us in the coming season.
Colour trends for 2020
Choosing the colours that will accompany us next year will not be easy. It is underpinned by various studies, analyses, trends and our usual daily choices.
Neo Mint - a colour inspired by nature
According to the Worth Global Style Network platform, the leading colour of 2020 will be Neo Mint. This choice shows a clear inspiration from nature, which we mentioned earlier. It is one of the shades of green. According to WGSN it is supposed to bring us closer to nature. It is intended for both men and women. It is a beautiful combination of modernity, freshness and peace.
Chinese Porcelain - a color that improves the mood
PPG Paints - one of the biggest paint manufacturers - predicts that the most popular color of 2020 will be Chinese Porcelain, i.e. navy blue with a delicate shade of cobalt and ink. This very shade of navy blue can be found on traditional Chinese porcelain. This colour does not tire the eye, it relaxes and maintains a positive aura in the room - it is ideal for both the living room and bedroom.
Tranquil Dawn - a mint grey that will make the interior more cosy.
Tranquil Dawn is a mint grey colour based on a combination of the base colour with a subtle shade of green and blue. Tranquil Dawn will make the interior we use it in more cosy and we will feel like staying in it more often.
Naval SW 6244 - gray for calm.
If we are talking about grays, it is impossible not to mention Naval SW 6244. It refers to the colour of the starry sky. This color will help us to concentrate and calm down. This colour also refers to art deco.
Furniture trends for 2020
The colour trends are in line with the furniture trends for 2020. Velvet and shiny metal and marble details dominate them. A return to natural materials has been visible for several years, but only now have they become very popular. In 2020 the fashion for wooden coffee tables, cabinets and chairs made of ebony, rosewood or mahogany will return. Shops will offer more and more furniture, where wood will be combined with stone, metal and glass. In 2020, shiny furniture will be gone, and in return, matt finishes will become fashionable. Old furniture will also be fashionable - after renovation.
Decorative trends for 2020
In the coming season, the main decorating trend for 2020 will be the use of plant motifs. Flowers will "bloom" on bedding, curtains, furniture or upholstery. They will also decorate ceilings and walls. Thanks to this, the space will become a kind of jungle, in which simple, geometric forms will reign. The trends will become geometric patterns on wallpapers and fabrics. We will start using natural materials. Eco style will also dominate in additions made of corn, bamboo and seagrass. Different types of African motifs will also be desired. Giraffes of squares, zebra stripes, squares, triangles - expect all this in 2020. In addition, various braids or decorations made by human hand. Our homes will also be ruled by velour. We can use it for upholstery selection or just for accessories. Metal inserts in furniture, various figures and gold. This is a strong reference to the neo-bourgeois style, which will return to favor in 2020.